Hi there. Michael Malloy, here. I'm the senior attorney, receptionist, and janitor at the Malloy Firm. In other words, the CEO–Chief Everything Officer. If you've made it this far, thanks for taking an interest in my vision to build a very personal type of law firm. See, I think that if you want to call yourself a business lawyer and you're going to charge people for your advice on how to run their organizations,
you'd better have some experience actually running and owning a business.
 A lot of lawyers don't have that. They're very bright people, and many of them know an awful lot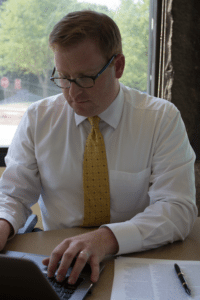 about the area of the law in which they practice. But they have never actually had to set up a chart of accounts, make payroll, or leave a sure thing to take a chance on themselves.
I started The Malloy Firm in part because in many ways, I was born to be an entrepreneur in a professional service field. Since I was a kid, my Dad has owned a small independent insurance agency in my own hometown. I literally grew up on Main street. I learned a ton about business from him, though not with any formality. Instead, I absorbed through immersion how incredibly personal running a small business can be. My practice management philosophy was forged in childhood afternoons, when Dad would pick me up from school. On our way to swim practice we'd often stop to drop off a license plate at a client's house, file papers at the Registry of Motor Vehicles, or to photograph a building with his old Polaroid camera (the original selfie stick). Words like "deductible" and "workers' compensation" were common terms at our dinner table. I saw and learned how to treat clients well. I learned without realizing it at first, that clients are not just the lifeblood of any business, some of them turn out to be great friends and the kind of people you just want to be around. It wasn't until years later, when I started practicing in some larger firms, that I realized not everyone shares this outlook.
So, what does that have to do with hiring a lawyer?
Well, at this firm, it has everything to do with it. We're the type of firm that knows where our clients live, toasts them at local restaurants, serves with them on community boards, and runs into them  in the intermission "cookie line" at the local theatre. That personal connection, and our ability to be there for you when you most need it, is our promise. This firm won't be for everyone. But if you're looking to build a long-term personal relationship with an advocate and counselor who has lived the life of an entrepreneur, we look forward to talking with you.
             – Michael